Hey my name is Noob.Killah And I would like to join the Uoc clan because I have been playing for 3 years and I would wish to join a clan because there was this uoc member yesterday I forgot his name [Sorry] and I asked him if I could join uoc can he said yes so I would really like to have a test and Join uoc because Im pretty lonely and cannot join any clan. Im pretty fluent with the sniper and assault rifles, Thus wanting to join the clan, I will respect all members of the clan :DAnd not be a bitch. I will ask people if they want to join uoc only if they ask but I will let the join ONLY if the owner accepts. If this is accepted. I will be happy and If its not I will be fine.

Noob.Killah




Posts

: 2


Join date

: 2013-09-01



We'd be happy to test you. Can you post a date and time (please, Central time, but if not, post the timezone)? Chris and I can post a confirmation and then we'll have a test then!
The test will be in OSOK, LSS and DM, so prepare!
Okay ill set it today in 1 hour.

Noob.Killah




Posts

: 2


Join date

: 2013-09-01



kk here are the results:
OSOK - not bad
DM - not bad (we played 1v1 for most all of this match)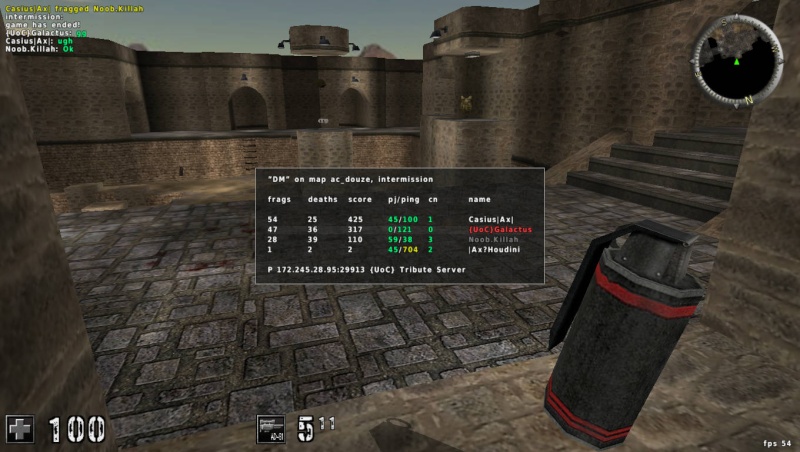 But LSS was pretty bad... no pic, I didn't get one.
Overall, not too bad.
F1
If no one else votes for this for a while (inactivity...) then it'll be official, and if someone votes F1 as well, you're in as well.

Optical




Posts

: 46


Join date

: 2013-07-27



You're in!
You may wear the UoC tag. Try to check this forum every once in a while.
Similar topics
---
Permissions in this forum:
You
cannot
reply to topics in this forum