This one isn't that good... but keep in mind: ]3ug}3ite is w4r$naKe, !Ron$ol13R. And I got like 12 kills on him. I have NEVER seen a player better than he.
Good Job Galactus! I think youre better than me at guns and i couldnt even come close to a guy like w4r$naKe. Be proud!

~Chris~




Posts

: 45


Join date

: 2013-07-21



He was HypE|Guardian, he is my good friend. Also, trust me on this, there are MUCH better players out there. Clans such as oNe are extremely skilled and make Guardian look like a noob,lolz.

But gg Galactus, you put up a great fight xD
Do you mean that this guy wasn't w4r$naKe, or that w4r$naKe is HypE|Guardian?
idk, but I've never seen anyone do as well as this: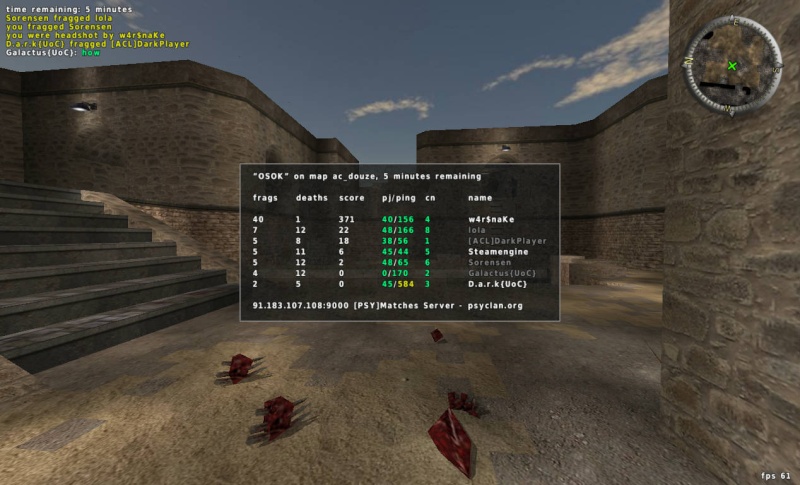 At this point, Dark and I had just stopped trying and just were staying to marvel at him. I think he got to 52 kills, then Dark killed him, to make it 52:2, and he left. I shudder at what oNe ppl would be able to do looking at this.
Warsnake is the ex-HypE|Guardian

He goes by many aliases.
Also, has DarK rejoined UoC after leaving?
But if I remember correctly he wasn't THAT good so I wouldn't put the possibility of hacks out of the picture, judging by that score.

Even the best players die a few times in OSOK due to spawns and gang-ups. That score just doesn't look right to me.
Yeah, it seemed like he was hacking. But then, he said something like "I trained Pr0\/0k3D", and we were in awe, and believed him, as Pr0\/0k3D is really skilled too. This time, I could only kill him when he spawned in the place I know to be as the worst spawn ever in Douze. He said that he's usually faster and can escape even that spawn and come out alive. But why would he hack? Did he hack before? Also, how do gang ups work in OSOK? Everyone looks the same... And that's the end of my questions, lol.
I haven't seen DARK since he left. He goes by many fake aliases, so I might have seen him but not have known. He's welcome back to an instant in, if he wants to. DARK, IF YOU SEE THIS, COME BACK.
---
Permissions in this forum:
You
cannot
reply to topics in this forum